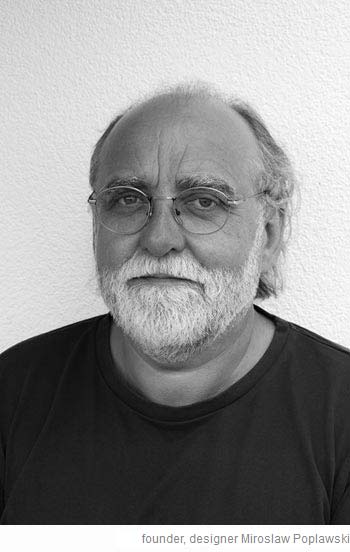 fivetimesone is a design studio and brand formed in 2009 by the Poplawski family. We love simplicity and nature, our focus is to make beautiful, timeless and unique objects with strong identities.
All objects are designed and hand crafted in Poland.
As a family of five we come up with different experiences and knowledge from fields of product design, sustainable technology, fine arts and art theory to architecture. Our various views and widely spread specializations result in an extensive research on human needs, both aesthetic and functionality. What leads us is simplicity, beauty, function and sustainability, as much as a need of nature's presence in everyday life.
Manifesto
In a world full of temporary and accidental objects we aim to design well-crafted products which, thanks to their strength of expression, mark the presence and move senses, at the same time perfectly harmonizing with the surrounding.
With respect, care and sensitivity towards nature and our clients, we do our best to create products in accordance with our values, building on the principles of fair-trade. We use high quality materials as a way of reducing our environmental footprint.
Our products are authentic and individual, coming from our workshop where they are handmade by craftsmen. Our way of working is an active response to the speed of the global market and the environmental situation.
Besides publications in many magazines, we were also featured in these books:
Design Uncut, Adam Mickiewicz Institute, 2011,
Zaprojektowane, 2+3D Magazine, 2014,
Industrial design examples from Poland, 2+3D Magazine, 2014.
We were co-creating a set design for ballet "Sen" choreographed by Wojciech Misiuro, by making stone elements especially for the performance.
Exhibitions
The Other Side Of Things, Polish Design After 1989. The National Museum in Krakow, Main Building, Krakow 2018,
Logika lokalności. Norweski i polski design. Międzynarodowe Centrum Kultury w Krakowie 2017,
The logic of the local. Norwegian and Polish contemporary design. Nordenfjeldske Kunstindustrimuseum Trondheim 2017,
Baltic Home, Gdynia Design Days 2016,
Projekt Człowiek Dizajn Ma Sens(5S), Kids Love Design Festival, Szczecin 2016,
Jak zarobić na wzornictwie, Instytut Wzornictwa Przemysłowego, Warszawa 2015
The Connecting: Polska In Between, Istanbuł 2014,
Wełną otulone, Zamek Cieszyn, Cieszyn 2014,
Brave New World, Łódź Design Festival 2014,
City as a Laboratory, Dutch Design Week, Eindhoven 2012.
Process of making
Our products have a story. All of them are made by hand, by us and by local craftsmen in our workshop in the north of Poland.
Combining traditional European craftsmanship with new ways of sustainable design we created our own technology of felting which allowed us to make unique and unrepeatable textiles.
We use natural, organic and certified raw materials like anti-allergic, stain- and fire resistant wool and pure silk. We take great care of the technology to keep the best quality and let the product serve for years.
The quality of our woolen products was certified by Campaign For Wool.
stONE collection
Stone Collection was born from a desire to create a family of objects which brings a smile and gives warmth in every space, as well as to deny physics and turn what is heavy into light and pleasantly soft.
All our poufs and pillows are handmade by our own technology of felting. This results in seamless, authentic and unique textiles. We take great care to every single detail of the pattern to truly resemble real stones, as they are in nature.